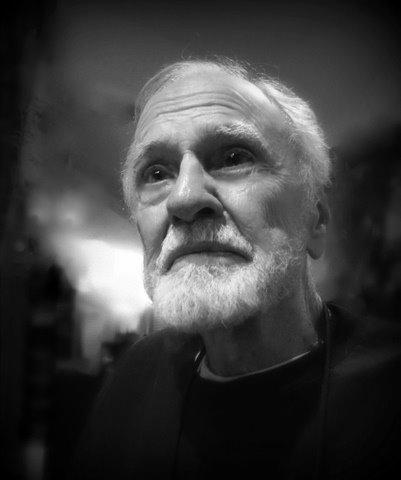 Dear Friends,
I'm writing to inform you that Keith went to be with Jesus yesterday, Sunday January 22nd 2012, at 3:00 pm.  Keith's last few weeks here on earth were peaceful.  He was visited by many friends and relatives whom he was always pleased to see.  Andrea was holding Keith, her beloved husband of 33 years, when he drew his last breath.  Keith loved you all so much and I know that he would want you to know.
Thank you for your fellowship, comments, love and prayers through this last part of Keith's adventure here with us.
We hope to continue to post Keith's insights and wisdom here in the future so please check back.  While we grieve the loss of a great man we can rejoice in his everlasting life with our Lord and Savior, Jesus Christ.
Psalm 23 (The Message)
1-3 God, my shepherd! I don't need a thing.
You have bedded me down in lush meadows,
you find me quiet pools to drink from.
True to your word,
you let me catch my breath
and send me in the right direction.
4 Even when the way goes through
Death Valley,
I'm not afraid
when you walk at my side.
Your trusty shepherd's crook
makes me feel secure.
5 You serve me a six-course dinner
right in front of my enemies.
You revive my drooping head;
my cup brims with blessing.
6 Your beauty and love chase after me
every day of my life.
I'm back home in the house of God
for the rest of my life.
Lord, thank you for Keith and the beautiful life he led.  His transparency and authenticity were a breath of fresh air to so many of us and we are so grateful that we were able to walk through some of this adventure with him.  Please cover Keith's wife, Andrea, and his entire family with your mighty comfort and peace.  We ask all this in Jesus' name, Amen.
Blessings to you all,
Jessica Lyon
Friend and Assistant
John Keith Miller—Obituary
John Keith Miller, 84, a native of Tulsa, Oklahoma and a resident of Austin, Texas passed away on Sunday, January 22, 2012.  He was born on April 19, 1927 in Tulsa, the son of Earle T. Miller and Mable Davis Miller.  After graduating from Tulsa Central High School, he served in the U.S. Navy and then entered Oklahoma University, Norman, OK.  In 1949, he married Mary Allen Hess. At O.U. he was a member of Beta Theta Pi Fraternity and played on the O.U. Men's basketball team. He received a B.S. in Business from O.U. in 1951.  For the next decade, Miller worked in the oil exploration business in Texas and Oklahoma.  He left the oil business to study theology at Berkeley Divinity School (at Yale) and Earlham School of Religion, Richmond, IN, receiving a Divinity Degree in 1964.  In 1971 he earned a Master's Degree in Psychological Counseling.

In 1962, Miller became the first director of Laity Lodge, an Ecumenical Christian retreat center in the Texas hill country. Howard E. Butt, Jr. president of the H. E. Butt Foundation and Foundations for Laity Renewal, the founder of Laity Lodge, said that Miller was known for introducing a new kind of honesty in which clergy and others were encouraged to share not only their spiritual victories, by also their spiritual struggles. "His work marked a decisive change in this element of religious culture, cutting across a broad swath of church life." Butt concluded.

In 1965, his first book, The Taste of New Wine, which sold over one million copies, was published.  He spent the rest of his life communicating hope and faith with people through his writing and speaking.  All together Keith has written or co-authored 24 books on subjects including Christian living, addictions and codependence, the process of spiritual transformation, discovering and achieving one's vocational and life dreams, devotions, and business.  Other works include three DVD series, "A Hunger for Healing," "Wrestling with Angels," and "Write from the Heart."  His deep friendship and partnership with Bruce and Hazel Larson and many others influenced the way the Christian world understood and lived out theology. They helped establish "relational theology," living out one's Christian faith as an Adventure through a relationship with God that affects how one lives and relates to God and others.  His commitment to the Adventure and the Story gave many others a way to know Jesus and live a life of faith.

In 1976 Keith and his wife were divorced.  Several years later he married Andrea Wells who became not only his partner in life, but his partner also in ministry, writing and the Adventure. Keith continued to speak, write, and invest in the lives of those around him until the day he died. He was a passionate person who loved intensely and who wanted to reflect the light of Christ to the world.  In 2009 he received the degree of Doctor of Humane Letters from the Episcopal Seminary of the Southwest, a reflection of the mark he had made on the church. In November of 2011 he was awarded the Peacemaker's Award for International Dialogue by the Dispute Resolution Center of Austin for his work in conflict situations in several foreign countries during the past twenty years.

He is predeceased by his parents and his brother, Earle P. Miller.

He is survived by his wife of 33 years, Andrea Wells Miller of Oak Ridge, TN now living in Austin, and his three daughters, Leslie Williams and her husband, Stockton of Kerrville, TX, Kristin Huffman and her husband Mike of Houston, TX, and Mary-Keith Dickinson and her husband Karl of Hunt, TX.  Leslie's children include Jerre Williams and wife, Jessica, and Caroline Williams.  Kristin's children include Lizz Provence Swanson and her husband, Chris, Mark Provence and Becky Provence.  Mary-Keith's children include Mitchell Dickinson and Mary-Blair Dickinson.  Keith also had five great-grandchildren.

In lieu of flowers, the family requests donations be sent to one of the following: Austin Recovery, 8402 Cross Park Dr., Austin, 78754, St. Matthew's Episcopal Church, 8314 Mesa Dr., Austin, Texas 78759, The Kroc Center, 201 Holdsworth Drive, Kerrville, TX 78028, or Presbyterian Frontier Fellowship/Light of Hope, 7132 Portland Ave. Suite 136, Richfield, MN 55423.

A memorial service will be held Saturday, February 4, at 10:00 a.m. at St. Matthew's Episcopal Church, 8314 Mesa (Steck & Mesa) Austin with a reception following the service.